Despite the title of this article, we hope that this information will be useful to representatives of other retail sectors as well.

Fashion retail has a successful online presence. Over the past few years, there have been major investments in online fashion retailers such as Moda Operandi ($ 46 million), Nasty Gal ($ 49 million), Shoe Dazzle ($ 66 million), Beach Mint ($ 75 million) and Gilt. Group (a whopping $ 236 million).

But, at the same time, not all fashion retail players manage to survive in the struggle for an online buyer. The main reason for stagnation is the inability to adapt to the dynamics of changing consumer behavior on the Internet.

Before continuing, let's talk about the fundamental difference between selling "fashion" and clothing. The clothing business operates based on the demand for "cute" and "affordable" clothing that can be bought from the comfort of your home in an online store. And the business of selling "fashion" operates on the basis of the need to "be fashionable."

Both of these models have different audiences and therefore require a different approach to marketing. But the key idea of ​​creating a successful online store selling fashionable clothes is the same - to increase the customer's life cycle.

On average, 3/4 of buyers buy back almost all of the items they order. At the same time, as a rule, buyers order up to three products at a time, and only 20% of customers - only one item.

The growth of LTV (lifetime value - the customer's life cycle) directly affects the growth of profits, because customers not only return to the online store again, but also tell their friends about it on social networks.

The fashion retail industry has 5 basic principles to increase a client's LTV:
· Perceiving value
· Personalized shopping experience
· Honesty and openness
· Online store assortment management
· Customer focus
Perceiving value
Simply put, the higher the perceived value of the product, the more likely it is to purchase the product, despite the high cost and risks. Among others, the perceived value of goods is influenced by brand loyalty, positive associations that the brand "sows" in the habitats of the target audience.

Focus on content quality, as many successful online retailers do.

At large online retail stores such as Gilt & ASOS, the production group is mainly composed of several departments:
· Photo studio
· Stylists
· Video production
· Department of selection of models for filming
· Designers for photo retouching and layout of catalogs
· Copywriting department
Everything this team produces is liked on Facebook and Insagram, tweaked on Twiter and posted on Pinterest.

1. Build good visual communication with the buyer
Unlike offline stores, in online stores it is impossible to tactilely feel the goods and try them on. With the emergence of such a phenomenon as social commerce, when the exchange of information becomes more and more visual, you will be marking time if your process of generating high-quality visual content is not debugged. Look at the photos of your product, through the eyes of your customers and ask yourself a question: are these angles and quality of shooting enough for me to buy this product from myself?

Forgotten angles:
· Accessories (close-up of any buttons, hooks, locks)
· Fabric structure (achieved through macro photography and good lighting)
· Quality of seams and lining (one close-up of seam and lining)
· Emblems and stripes (as the emblem is attached to the fabric)
· Label (can be fixed in any of the above pictures)
An example of a good implementation on freepeople.com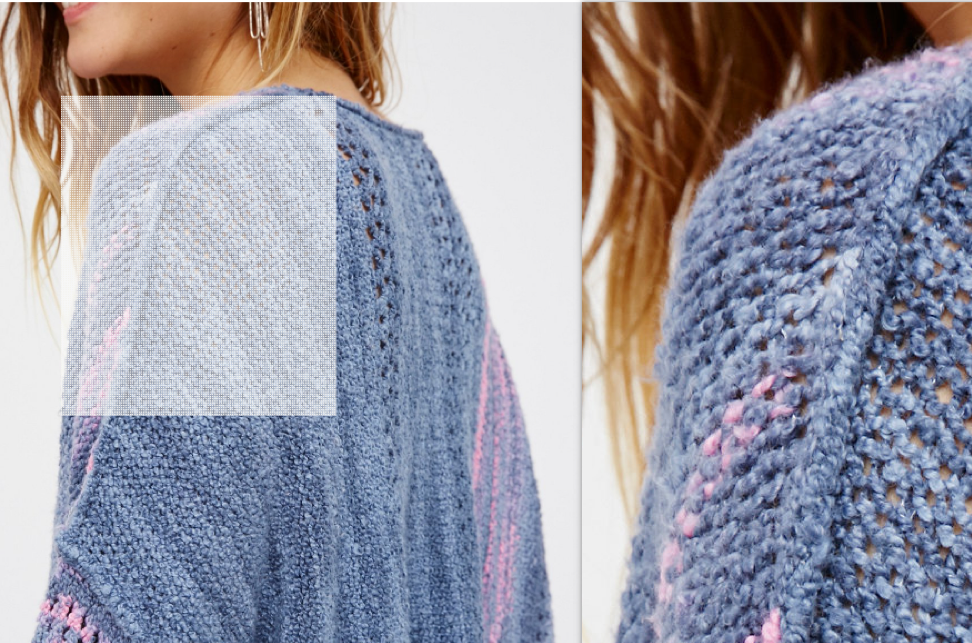 Add visuals to your visual communication. For example,
ASOS.com go from the opposite and shoot first a video in high resolution, and only then cut the product images from the video sequence.




The video in the product card is one story, the integration of the fashion brand in the minds of the target audience will go much deeper if the video sequence will bring it to a completely different emotional level.

Freepeople.com went further and created a short movie with elements of Lovestory. It is not hard to guess that the clothes the young couple is wearing are from the latest collection of this brand. And you must admit that this is a completely different level of involvement.

2. Make the product packaging attractive
Few online retailers demonstrate high-quality packaging of their goods, and someone does not pay due attention to this at all and the buyer receives a purchase, at best, in an ordinary cardboard box. In the fashion industry, this cannot be neglected.

Nobody wants to share on social networks their emotions from the purchase at the time of unpacking if the quality of the packaging is at a low level. By showing the packaging of a product at the time of making a purchase decision, you increase the perception of value. Most likely, the buyer will already imagine at this moment how he receives his purchase in this premium package. It is important that the picture of the packaging of the fashion brand and the product correspond to what the buyer will receive at the time of delivery.

MrPorter understands this and posted video on the site about your attitude to packaging.




3. Don't overdo it with an increase in perceived value.
Do not cross the line by overstating the perceived value so that it ceases to correspond to reality the moment the box is opened.

Online fashion retailers, as mentioned earlier, make the main turnover on repeat orders and an increase in the average check. But as soon as the expectations of buyers cease to correspond to reality, you will lose both. The number of returns will increase, and your once profitable online store will go deeply negative.

4. Don't try to sell on the homepage
Online stores aimed at selling fashionable clothes do not display prices for their products on the store's home page. This is a feature of user interaction in this segment. Instead, they engage with the online store, building relationships and trust through the visuals and brand principles before showing the price.

5. Tell your brand story
Nothing inspires confidence like the faces of those who make history. People buy from people. Tell everything about your brand using an example Modcloth, ASOS and GAP.

6. Update the showcase
Why is it so important? If you publish a new product in the catalog of an online store without focusing on it, then you risk that this update will go unnoticed by your regular customers. It will feel like you are constantly selling leftovers. From the point of view of the psychology of consumption in the fashion industry, there is a difference between simply adding new products and launching a new collection of fashionable clothes.






Personalized shopping experience

7. Find out everything about your customers.
If you are serious about creating value throughout the customer's life, you must make it your goal to learn everything about your customers. Online fashion retailers are constantly introducing new ways of collecting customer information in order to embed items personalization of the online store. Knowing the preferences of the client, you are more likely to offer him what he will definitely buy.

Shoedazzle collects customer preferences in the form of a survey before showing the product catalog and making any recommendations.



8. Offer to complement the image
ASOS bundles products by displaying the full look in the photos, and below, in the "Buy the look" block, it shows individual products from that look. Great welcome for upsale.





9. Help me choose the right size for clothes

One of the problematic aspects of online fashion retail is the high percentage of product returns after purchase. This is due to the fact that the buyer is not always sure about the quality, size and whether this thing will fit his figure.

ModCloth wrote down for their customers video, telling how to choose the right product for your figure. On ASOS, in addition to the standard sizing chart, there is a poll match.




Amazon recently launched service at-home try-ons for loyal customers with an annual membership fee of $ 99. As it seems to us, this is a new round of trusting relationships with our customers.

10. Implement product recommendation services.
Product recommendation services work on the principle of analyzing data about user preferences and, at the right time, recommend what they are more likely to be interested in.
What can be analyzed:
· User behavior on the site
· Viewed products
· History of orders
· Search history
11. Personalize your e-mail newsletter.
Online fashion retailers use emails not only as a marketing channel, but also as a tool to build relationships with their customers.

They create smart marketing campaigns in their mailings so that the client receives information in the letter about discounts on the product they would like to purchase. This creates a personalized shopping experience. This issue is also easily resolved by integrating the online store with personalization services.

12. Invite clients to become part of the community.
We noticed that the word "community" in online retail loses its meaning when the user is asked to register in the store and only everything related to convenience is offered as benefits, for example:
· Save your credit card details for a faster purchase
· Manage your order history
· Access your wishlist
· Track orders easily
Undoubtedly, this is also important, since makes life easier for the client, but this does not in any way reflect the essence of creating a "community" and cannot serve as a prerequisite for building long-term relationships with clients. The benefits of registering with an online store should go beyond convenience and enable the user to be a part of your business.






13. Competently collect the subscription base.

The collection of the subscription base should be done gently and unobtrusively. Therefore, by offering your visitors a discount on their first purchase in exchange for email, you are effectively killing two birds with one stone. Firstly, you get a new subscriber, whom you convert into a customer in the future, and secondly, you motivate the visitor to make a purchase from you, because he already has a discount.



Honesty and openness

14. Be honest with product reviews.
If you've been in retail for a long time, you know the importance of product reviews. Reviews can greatly influence a buying decision. Therefore, online retailers clean out negative reviews, leaving only positive ones. But doing this is fundamentally wrong. By showing the negative aspects of both the work of the store and of an individual product, you increase the credibility of the "Product Reviews" block.

Since in this case there is no suspicion that the reviews were written by the store owner himself. Well, and always remember the purpose of reviews is not to sell a product, but to help the client make an informed purchase decision. Returning goods and money is not profitable for the store, but by revealing both positive and negative aspects, you reduce the percentage of product returns, building transparent and trusting relationships with customers.




Try to respond to any review about your store or product. Respond to positive feedback with simple gratitude, and negative feedback with a constructive response describing the whole picture and your further actions with a positive outcome of the negative situation.

15. Add realism.
A significant number of buyers - more than 70% (according to Google research) - are interested in how clothes will look on ordinary people, and not on models. Any product photo your customer takes with her iPhone is as important to your business as professional content which is generated by your production team.

Low-quality photos of your customers wearing your dress will carry a lot more weight at the point of decision and will inevitably affect sales. Since this is an element of social proof.

Place a block on the product card where your customers can post their photos after purchase, just like ASOS does.



16. Amplify the word of mouth effect.
How to do it? First, you must showcase your customers great service and exclusive quality merchandise, impressing them enough to trigger word of mouth.

But that is not all. Now you need to contact each customer by email or phone and personally ask about their shopping experience in your online store. Ask them to provide feedback on your store and the items you purchased.

And finally, ask who of their acquaintances may be interested in your products and with whom they recommend you to talk.

Offer your loyal customers a bonus like it does Gilt, in the form of a $ 25 discount on the next purchase, in the event that customers bring their girlfriends to you.

Modcloth has a referral program implemented with automation elements - a referral link is generated automatically and sent to friends either by letter or in the form of a post on social networks.

Online store assortment management
17. Try to sell only exclusive items
In the battle for online shoppers, exclusivity can be your competitive advantage. The products you sell in an online store should be unique to the store, as this is the basis for building a strong brand. Otherwise, you run the risk of entering a price war, which will inevitably lead to a decrease in marginality. This is a notoriously losing position in the retail trade of the fashion industry and even more so on the Internet. Therefore, control the exclusivity of your supplier's products.

18. Start deliveries by purchasing a small batch of goods
You are lucky and you immediately found a good supplier who is ready to provide you with supplies of quality goods at a good price. But do not rush to make a purchase of a large batch without making sure that your customers will like this product. Start with a trial batch of the product by placing it on the window of your online store. Ask, through the mailing list or by calling in person, whether the purchase of this product has met the customer's expectations.

19. Maintain a consistent brand identity.
If your goal is to create an exclusive fashion brand, then in an online clothing store it is important that the spirit of the brand is maintained in every product. Every major retail fashion retailer usually has a style director who oversees and edits the purchase of new products (in the case of startups, the owner of the company plays this role). His responsibilities include monitoring not only new deliveries of goods for belonging to the brand, but also the selection of models for a photo shoot and a uniform style of displaying goods in an online store.

For example, if you look at pictures of models wearing brand clothing Everlane, you will notice that they are all made in the same style.


20. Keep track of the availability of goods in the warehouse.
When you see how sales of a particular product are gaining momentum, make sure to reorder on time before the product runs out of stock. Don't make your customers wait. In the event that you decide not to re-purchase, do not forget to register a 301 redirect to the category page. Otherwise, the missing page can negatively affect the attitude of your visitors to the brand, as they will be shown a 404 page, as well as the promotion of your online store in search engines.

By the way, on 404 page Modcloth implemented a small interactive, thereby, probably, reducing the percentage of leaving the online store when clicking on non-working links.

21. Scale your sales wisely.
When e-commerce companies reach their "glass" ceiling, they often face the challenge of expanding their product line in an effort to increase sales. The biggest challenge is meeting demand in such a way that the customer and brand are not harmed during this integration. Be careful when adding new categories - make sure that the new type of product matches the style of your brand.

Let's say you primarily sell vintage fashion clothing. By adding a new organic apparel category to your online store just because you have a few customers demanding it, or by finding a supplier that offers you great organic apparel with good margins, you will end up washing your brand down by trying to sell everything. ...

Customer focus
In the fashion industry, what is in demand usually comes from trendsetters, and modern fashion retailers are trying to break this stereotype. They gave customers the opportunity to participate in brand building and voice their preferences.

22. Make customers a part of your brand.
So, for example, Modcloth announced See my blog on the launch of the "Be the Buyer" program. They post products that they plan to launch into production or products published on marketplaces. And each program participant can vote for the product they like. The product with the maximum number of votes is put into production.

User comments on the post.




23. Promote the role of the customer service team.
Customers prefer to buy luxury goods offline: they enjoy the atmosphere, high level of service and an individual approach - sellers in boutiques not only know regular customers by sight, but are also well aware of their tastes.

And in order to compete online with offline retail, it is also necessary to focus on customer service.

Since now customer service goes beyond a simple consultation on stock availability and delivery methods, it becomes personalized, strengthens customer relationships and provides more detailed information about them through style recommendations.




Content is the new social currency
Today we absorb a huge amount of information, obviously more than our brain can process. Often this stream is filtered at the level of opinion leaders.

If you can be a source of inspiration and fashion trends, people will buy from you.

Valuable content will give you personality and build from the big brands that are already firmly entrenched in the fashion segment.

24. Start blogging in fashion
Blogging will allow you to get even closer to your customers. Tell your visitors about your production and your team, tell them what challenges you face every day trying to create a product that will exceed all expectations. Write about trends in the fashion world and what celebrities wear. But before preparing an article, make sure whether it is valuable to your target audience and how it will help promote your brand.

For those interested in more general information - trends, trends and celebrity images - the most important sources are social media with high quality visual content, fashion magazine sites and news resources.

NastyGal is an online fashion retail that sells clothes under its own brand through an online store, attracting customers mainly from social networks. They sell more than just clothing, they sell their brand's clothing experience. With high-quality visual and viral content on social media.


More than 1,000,000 users have subscribed to the Facebook page of the online store.



25. Hire people from your target segment

The age and demographic characteristics of the fashion brand employees must match the characteristics of the customers. For example, if you're targeting girls in their 20s and 35s who love vintage fashion, try hiring an employee that matches that same target segment. If so, a 28-year-old female photographer who loves vintage clothing will serve your clients better than a 40-year-old man who loves casual clothes.

Use techniques, implement and test tools that will take your online fashion store to the next level. The main things to remember when creating a successful online fashion brand are:
· Work on the level of customer service in order to increase customer LTV;
· Maintain the preponderance towards exclusive products, otherwise you will be forced to compete on price;
· Generate quality visual and textual content - this will help increase perceived value;
· Gather information about your visitors and customers - so you can more accurately meet the needs and offer what will be bought more likely.
We hope that the information in our article was useful to you. If you need a store, you can always contact our company to create or support your site.