If you are planning to launch an online store, then most likely you want to enter the market quickly and, if possible, mitigate the risks. In this case, it makes sense to develop a minimum viable product (MVP) and then gradually improve it. We will tell you what the creation of an MVP will give, what stages its development consists of, how to avoid the classic mistakes of beginners.

Definition of an MVP
The term MVP (Minimum Viable Product or Minimum Viable Product) was coined by Frank Robinson. By MVP, he understood the result of the simultaneous development of a product and the study of user reactions to it. MVP is a version of an online store with a basic set of functionality that allows you to collect maximum information about customer experience with minimal investment.




MVP is not the final version of an online store. After its launch, you can immediately refine the project, introducing new functionality based on the behavior and needs of visitors.
Product MVP is sometimes confused with proof of concept (PoC). The latter is not yet a product, but an approach to determining the scope of work, development options and identifying errors based on theoretical studies of market interest in the product. An optimally implemented PoC can form the basis of a website MVP.
What will the creation of an MVP give
MVP development allows:
determine the necessary functionality of the online store in order to efficiently spend time on development;
reduce the cost of creating an online store by introducing only important functions;
promptly launch the project and start making a profit;
in the shortest possible time and with minimal effort, make sure that the functionality is in demand, which means reducing the risk of wasting the budget;
understand the potential payback and attract investors for the development of the project;
quickly identify and fix errors;
adjust the business model and, based on the facts, create a roadmap for improvements for a full-fledged version of the online store.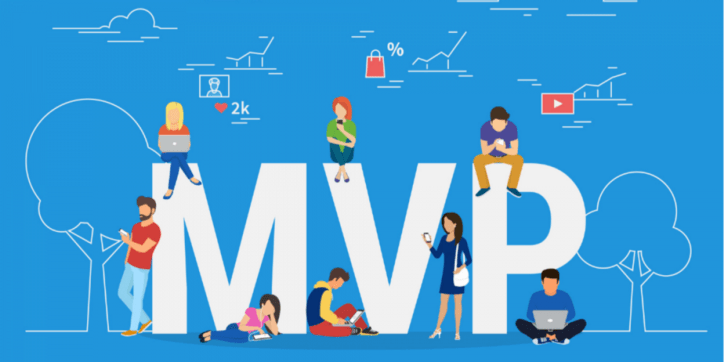 What is important to understand at the start
Clients often contact us or invite us to tender without prior preparation. In some cases, they provide conditional requirements for the project - only the main sections of the future site are listed without taking into account the specifics of the project and the tasks that the business sets for the site
With this approach, all contractors in the tender do not have a common understanding of the scope of work. Consequently, each will include in the estimate a completely different depth of understanding of the functionality of the project. This means that unpleasant surprises in the process - misunderstanding, an increase in cost and time after the preparation of a prototype and technical specifications, the development of "extra" functionality - are practically guaranteed.
Suspicious customers, fearing to miss something, ask to implement almost all possible functionality - also without reference to the specifics of the future online store. It is difficult for them to understand what is important to implement immediately, and what can wait. After all, they rely on the experience of competitors and e-commerce giants, whose websites have already implemented extensive functionality. It seems that all this is indispensable.
But the development of such an online store costs a lot of money and takes a lot of time. The risks with this approach are high - not the fact that complex functionality is necessary for buyers at the initial stages. If, nevertheless, it is possible to agree on a budget within the company, the project may be very delayed - after all, the more functions are implemented, the more resources are required for its implementation and debugging.
When quickly developing an online store as part of an MVP, it is important to determine the required minimum functionality and collect information about user experience after launch.
Remember that your goal is to recoup your investment as quickly as possible, and this can only be done on the basis of data from qualitative and quantitative research.




How to approach building an MVP
Before coming to the developer, we recommend conducting a pre-project analysis. If you have competencies in this area, it can be carried out on your own, in its absence - by contacting us.
As part of pre-project analytics, we conduct competitive analysis, in-depth interviews or Customer Development, create a site structure based on search demand.
Many developers and clients treat pre-design analysis formally or skip it. This is mistake. Pre-project analysis is a fundamental stage of development. It determines what functionality is really needed in a particular online store. Based on this, a detailed functional task is drawn up, which describes the main roles and scenarios for both site visitors and the online store team. With a functional task, you can announce a tender and get as close as possible to the final preliminary estimate from all contractors.
Once you've received a development estimate and selected a contractor, it's time to prioritize.
What functionality is needed at the stage of creating an MVP
Prioritize features that are directly related to business goals. The minimum viable product should contain only what helps buyers buy and owners sell.
Basic scenarios and functionality of an online store
The buyer must be able to:
choose and compare products;
add items to the cart;
find out the terms of payment, delivery, return;
place and pay for orders;
see the list of orders and track their statuses;
learn about promotions.
For this you will need:
catalog;
filtering and sorting;
product cards with high-quality images and complete information;
basket;
service pages;
Personal Area;
pages about the company and contacts.
The online store team should be able to:
upload product data to the catalog;
receive orders and payments;
manage order statuses;
develop the store using marketing tools, analyze the effectiveness of promotion.
For this you will need:
site administrator panel for managing content and orders;
integration with ERP;
online cash desk;
acquiring;
web analytics systems.
Accounting for the specifics of an online store
Depending on the specifics of the business, some of the functional elements may be irrelevant. Or vice versa - you may need additional functionality.
So, for example, a personal account at the start is not needed if purchases are made every few years. People rarely buy carpets, mattresses, furniture and other similar products. At the same time, the development of a personal account takes about 80 hours, and this is a lot of money. These funds at the start are better to invest in traffic.



Stages of MVP development
The development of an MVP store in our agency includes prototyping; writing technical specifications (TOR); integration with ERP and services; design for smartphone, tablet and desktop; layout and software assembly; basic SEO optimization.
Instead of a conclusion: how to develop and launch a product MVP without errors
Let's summarize the typical mistakes in the development and launch of the minimum viable product MVP:
1. Striving to be perfect
The point of developing an MVP is the opposite - to develop an online store with basic functionality, quickly launch it, and then refine it. The desire to achieve the ideal immediately will only increase the development time, and to infinity - there is always something to improve. But it is better to optimize those moments that are important for visitors. And you can find out what exactly is important only after launching and collecting feedback as part of UX research.
2. MVP does not meet the needs of buyers
This situation is possible if you did not sufficiently study the needs of the target audience during the pre-project analysis or developed "original" functionality that does not meet the usual expectations of users. The main task of an online store is to sell, so solutions should be simple, convenient and familiar.
3. Lack of work with feedback after launch
After the launch, everything is just beginning - it is important to collect feedback from visitors and analyze it. Based on this, you can decide which changes to implement on the site in the first place.
4. No development strategy or budget
It is important to imagine in advance how you will promote the online store and brand. Just launching an MVP and waiting for a stream of clients is not an option. It is impossible to do without a development strategy and investments. The development of an MVP will pay off only if the owner of an online store is determined to deal with the project for a long time and seriously.